Life is better with a dog, and nothing beats a long walk if you have this four-legged friend. It's known to all that you can use a dog for multiple purposes. You will feel the relaxing time at home with each other's company.
Among them, Asian dogs are something special and popular around the world. You might ask what are Asian dogs and search for the top 5 Asian dog breeds to keep.
So, if you are a dog lover and excited about Asian dogs, this writing is exactly for you. In this article, we will present the theme of Asian dogs and their popular breeds in the US. Besides, we disclose some facts about Asian dog breeds. Let's get started.
What are Asian Dogs?
Asian dogs originate from the Asian continent, and the breeds are available in Asian countries. There are several breeds available of this variety, and you will find them around the universe.
Besides, there are 43 breeds listed as Asian dogs, and you will find lots of breeds outside of this listing. Let's explore these Asian dogs that are popular around the world.
Chow Chow
Tibetan Mastiff
Shar Pei
Pekingese
Shiba Inu
Japanese Chin
Thai Bangkaew
Chinese Crested Dog
Thai Ridgeback
Formosan Mountain Dog 
Korean Jindo 
Central Asian Shepherd Dog 
Afghan Hound 
Japanese Spitz 
Sapsali Kintamani 
Phu Quoc 
Ridgeback Chongqing dog 
Kai Ken 
Kishu 
Hokkaido 
Shikoku 
Armenian gampr 
Canaan Dog 
Rampur Greyhound 
Japanese terrier 
Khuchi Dog
American Akita 
Bully Kutta 
Pungsan dog 
Bhotia dog 
Sarabi dog 
Eurasier 
Little Lion Dog 
Indian Pariah Dog
Indian Spitz 
Taigan
You have explored the most popular dogs in Asia, and there are hundreds of varieties available. If you want to find the best breeds of Asian dogs, this list is enough for you. These are the most delightful dog breeds that are friendly and extremely loyal.
You can also use some of the breeds for protection because of their protecting attitude. They have already earned the tag of standard guard dogs. So, this list represents the mixture of dog breeds around Asia.
Top 5 popular asian dog breeds in the US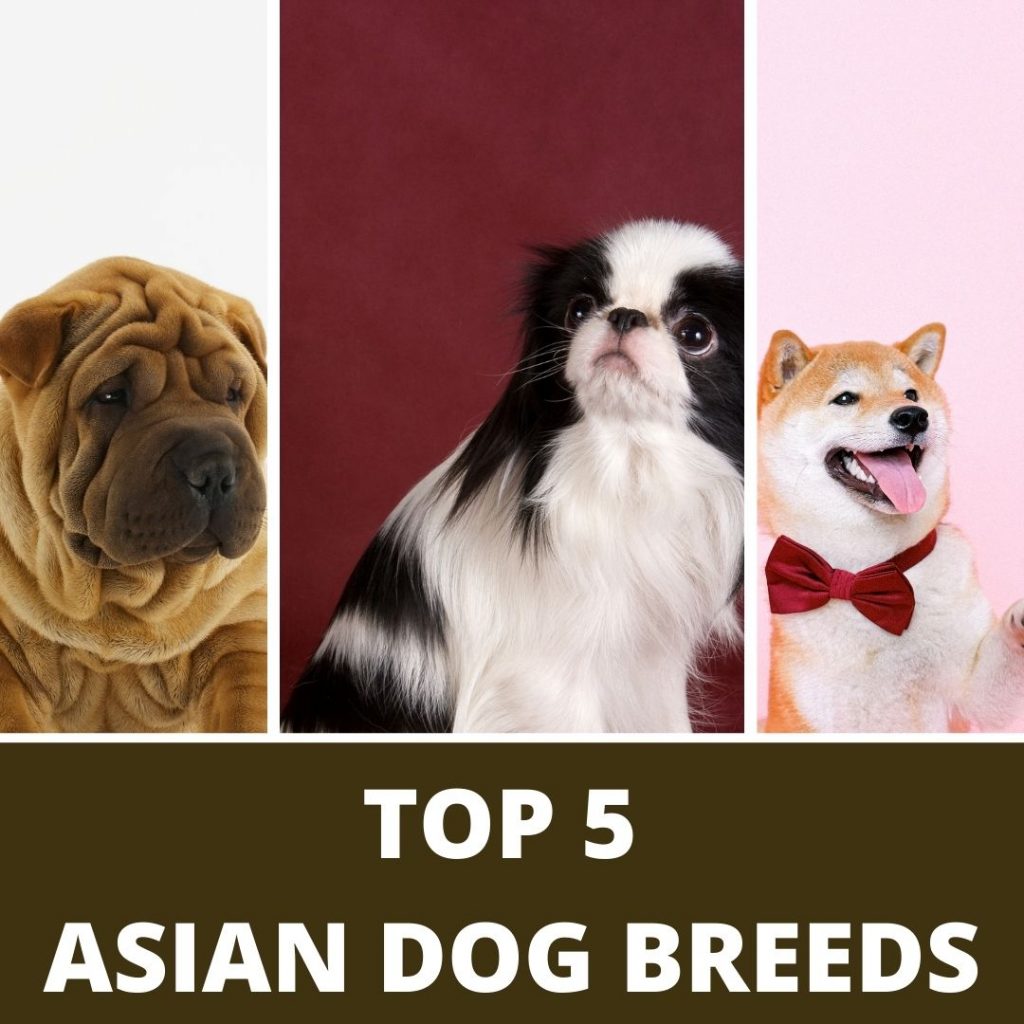 We mentioned 43 Asian dog breeds in the previous section. These breeds are loyal and originally originated from the Asian subcontinent.
From the above list, we have selected the top 5 dog breeds depending on some criteria. We search for loyalty, playfulness, size, weight, and life expectancy.
These 5 dogs meet all the criteria to become your next pets with a great attitude. Let's explore them.
Japanese Chin
As a pet lover, I want to share the most loyal dog breed and first found the Japanese Chin. It is the pet that has the perfect look and attitude.
These breeds are elegant and dainty with a mild nature. You will enjoy the time with this pet, and it is perfect for the US environment.
It has an average height of 8 to 11 inches with 7 to 11 pounds weight. You will be happy with this breed because they are lightweight and small in size.
The lifespan of this dog is more than ten years. Besides, you won't face any difficulty to maintain the dog for this long period.
Pekingese
If you are looking for a calm and quiet indoor pet, the Pekingese is more lively than others. This breed is self-possesses, and it will be a superb choice for adults in the home.
You feel comfortable and joyful with the sudden bursts of comic playfulness. It is surprisingly beautiful, and the size is perfect for senior citizens too.
With its short face, the dog looks like a child. It is polite enough with strangers and accepts other animals easily.
It has an average height of 6-9 inches with 14 pounds weight. This cute breed has a lifespan of more than 14 years.
Shar Pei
Shar-Pei is a Chinese breed with a medium-sized face and physical board. It has small and sunken eyes that express the personality of your pet.
The tiny triangular ears are more attractive than any other Asian breeds in the US. Besides, this dog will be a strong, regal, and independent guardian of your family.
The weight range of this loyal dog breed is 45-60 pounds. It is taller than other breeds, and the average height is 18-20 inches.
Are they friendly with strangers? Yes! 
Are they friendly with other dogs? Yes
But in my experience, only breeds that have early training and socialization are essential for this dominant dog breed.
Tibetan Mastiff
Tibetan Mastiff is originally a breed from Tibet famous for the guard, and they are still the best watchdogs in the world.  This giant dog has all the characteristics of watchfulness. But, it can swiftly be devoted to family and strangers.
The minimum height of this dog is 26 inches, and it has over 100 pounds of weight. It looks powerful, muscular, and massive as a pet. The broad head with a high neck shows the dominating attitude.
You can take them as a loyal family dog, but you have to provide early training to avoid any negative interaction.
Shiba Inu 
Shiba Inu is a Japanese breed brought from 60 years ago and became popular in the West. It is the most popular breed in the US.  
The white marking with the perfect color combination presents the best expression. These dogs are sturdy, muscular, and joyful.
They have 13 years of lifespan, and the average weight is 17 pounds. The average height is 15 inches, and it might vary for the male and female breed.
It is a good hunter dog with a simple attitude. The dog can change your lonely time while you are alone at home.
5 Facts about Asian Dog Breeds
Dogs are loyal pets, and people keep these trustworthy animals from ancient times with their families. They are popular all over the world for several factors.
However, Asian dogs are now available across the globe. Here are some interesting facts about Asian dog breeds.
Asian Dogs Are Loyal Affectionate
Asian breeds have loyalty, and these dogs come very close to humans.  They are well suited to families and excellent for playing.
These breeds are very charming and affectionate. You will find them unique in color and small in size. That makes them easy to handle and nurture.
Strong and Intelligent
Dogs are known as an intelligent pet for their super active brain. Asian dogs are more active due to the environment.
They can survive in any weather condition with their endurance. If you are looking for smart, loyal, and intelligent breeds, Asian dogs are best for their strong stubbornness.
They are good guard
In the Asian continent, dogs have been used as a guard from ancient times. With their strong personality and watching activity, these dogs can keep the house safe. They are dangerous to an enemy but very loyal to their master.
The owners of Asian breeds report that they find a pet that keeps them safe during day and night.
Needs low maintenance
Pet lovers face problems maintaining their dogs, and sometimes it seems to be a dangerous thing.
But, Asian dogs require known maintenance for their living habits. These dogs can easily adapt to any environment. You will feel the comfort when you have a mild and affectionate dog at home.
Asian dogs are surprisingly strong
Dogs from the Asian continent are stronger than any other breeds. With a heavy physical strength and adaptation power, they are ready to survive in the USA.
On the contrary, healthy pets will keep your home fresh and protect the family members from poison.
Do Asian Dog Breeds make Good Family Dogs?
Asian dog breeds are best for their affectionate and mild characteristics. If you are looking for a family dog breed, Asian dogs can be a great solution.
In this situation, you have to consider several things to find the best breed for your family.
First, the size of a dog is very important while selecting a family pet. You have to determine whether the dog is good for kids and senior citizens.
For instance, if you have small children, you should avoid the large breed, and Asian dogs are perfect for this situation.
Secondly, the energy level of Asian dogs makes them suitable for a particular family. You don't have to pay extra attention to maintain these breeds.
Finally, Asian dogs are perfectly happy with socialization and family temperament.
Wrapping Up
All together, Asian dogs are dedicated, strong, and friendly. You train them for socialization, and they will adapt without any aggressive manner.
Before selecting a breed, you have to explore the characteristics, size, and food habits of the dog. It will help you to maintain this amicable pet in a hassle-free way.
However, it is up to you which breed is perfect for your family. It is highly recommended to keep them safe and secure. An aggressive pet can bring the most dangerous things to your life.
Asian dogs are not so violent, and you can rely on them for several purposes. Try to keep your pet healthy and happy.